Our systems are easier than the Revenue Ros and cheaper and faster than using a traditional accountancy service. You take control of your tax affairs using our smart software systems.
You will be guided all of the way with numerous online help features, prompts and videos combined with phone support by our expert consultants making completion of your tax return and accounts an almost enjoyable experience!
• Answer some simple questions on your personal tax status.
• Answers to these basic questions ensure that our systems automatically claim your basic tax credits
Estimated time to complete – 5 mins
You can save and log out as often as you wish.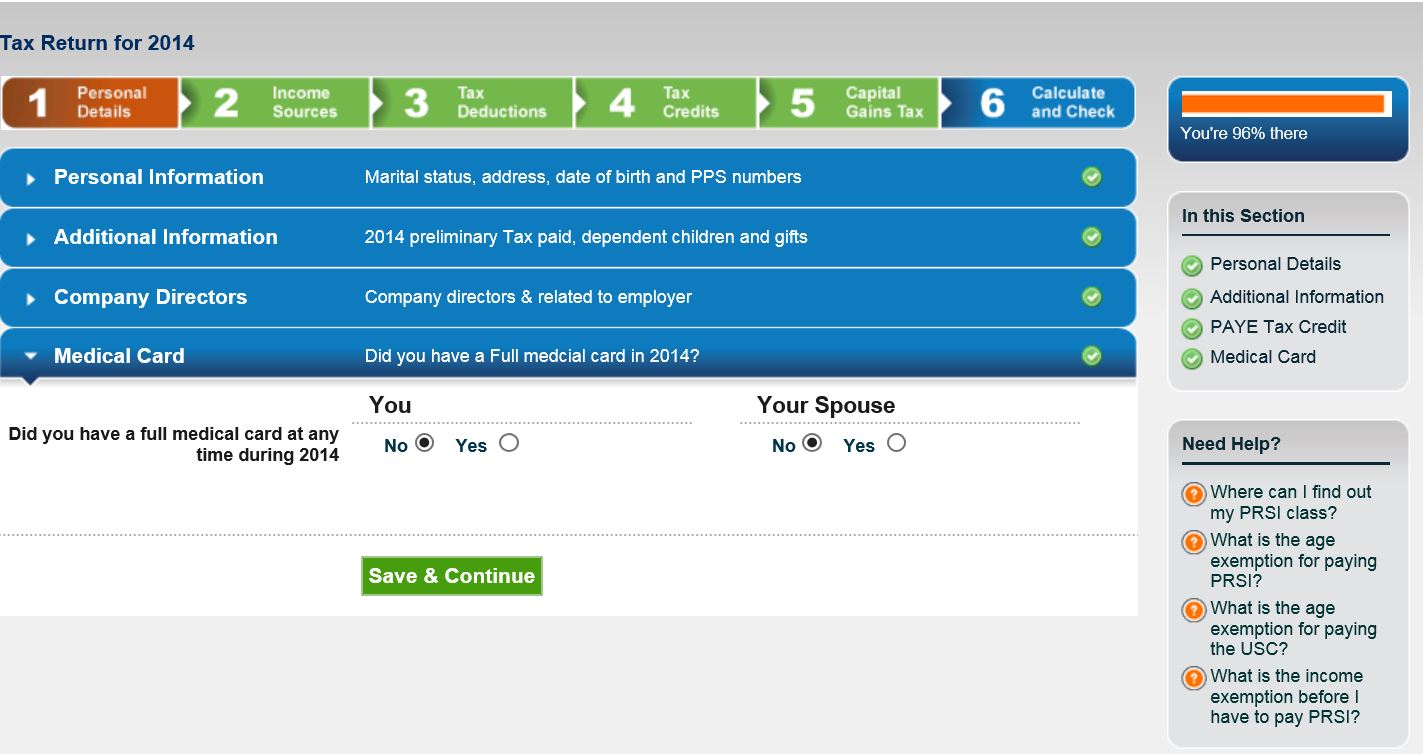 • This is where you enter details of your income
• For PAYE income we can import your details from Revenue
• Create your self employed accounts
• Create rental accounts for Irish properties
• Create rental accounts for foreign properties
• Enter details of other income eg deposit interest, dividends
Estimated time to complete – 15 mins
• We now prompt you for details of your tax deductions
• Pension contributions tax relief calculator for private pension payments
• Enter details of Nursing home expenses
• Claim for employee flat rate expenses allowance
• See what other claims you can make
• If you have no claims bypass to the next Step
Estimated time to complete – 5 mins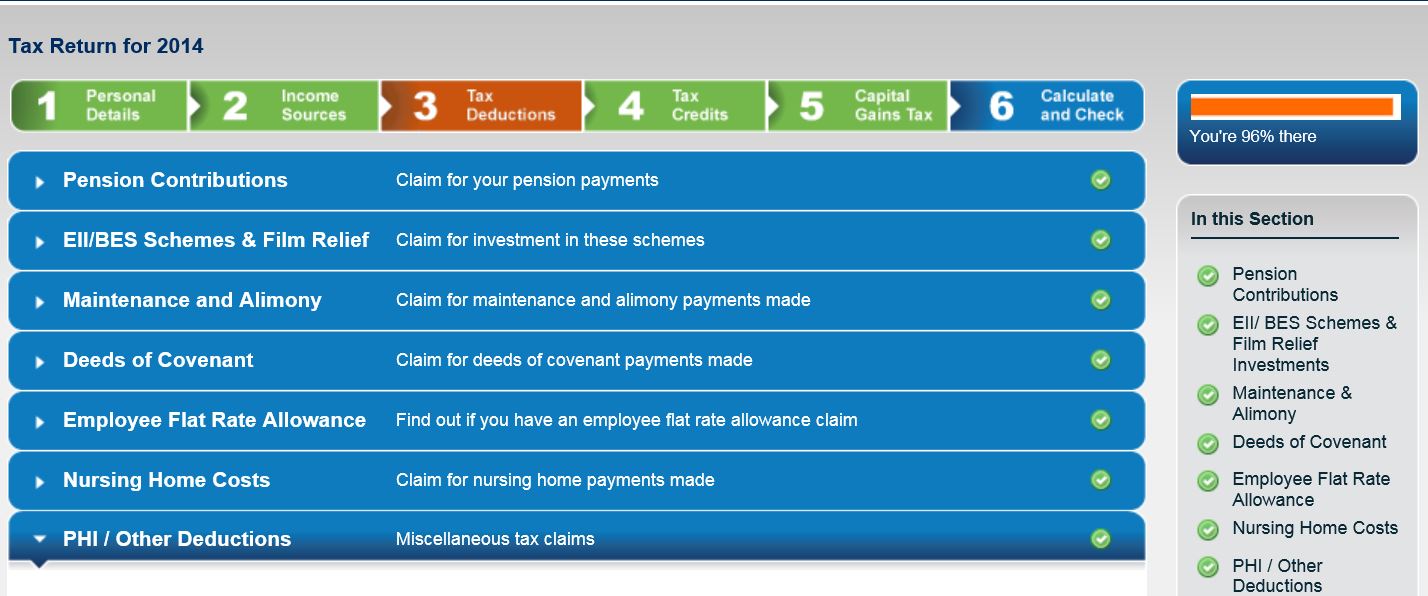 • Our systems will automatically claim your basic tax credits
• We now prompt you for details of other tax credits you can claim
• Claim for medical insurance paid for by your employer
• If you have no claims bypass to the next Step
Estimated time to complete – 5 mins
• This is for completing a capital gains tax return if required in respect of sales of shares or property
• All you have to do is enter the purchase and sales price details and our calculators do the rest
• If you have no capital gains bypass to the next Step
Estimated time to complete – 5 mins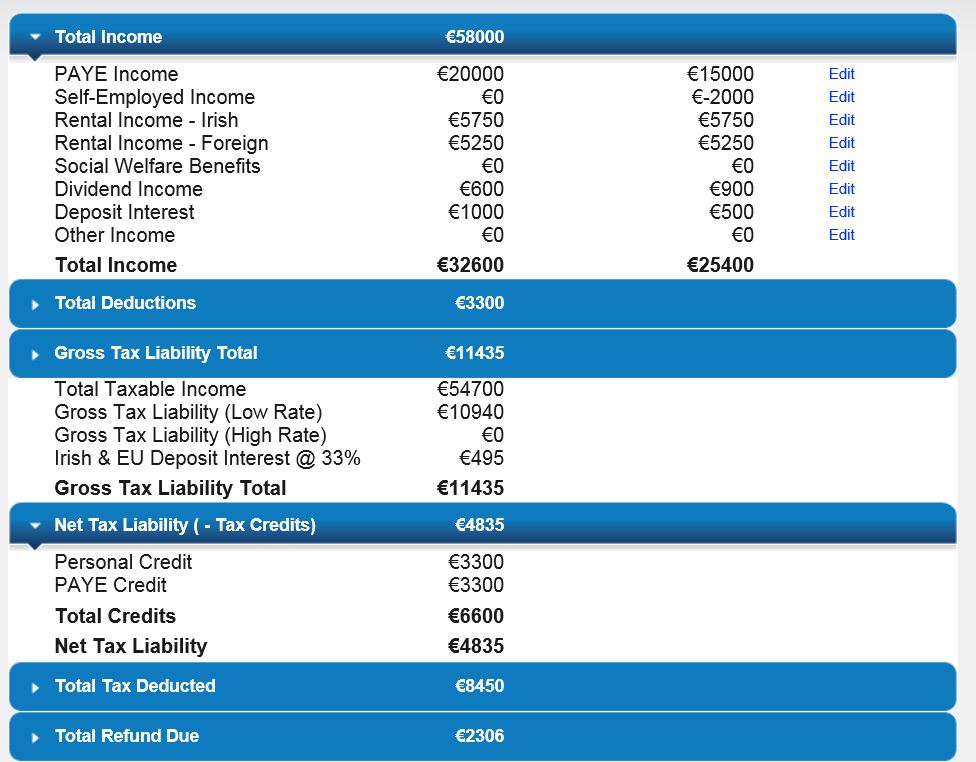 • Press the buttons and see your detailed tax calculation for the year.
• We show you if you are due a refund or if you owe tax
• We show you what preliminary tax payment you have to make under tax self assessment rules
• When you are finished press the button and print off your completed tax return form
• You will automatically receive a copy of your tax calculation and self employed accounts for saving onto your computer or tablet
• E-filing option also available for uploading to the Revenue Ros system
Estimated time to complete – 10 mins
REVENUE